Keeping up appearances



When my sister was still in California and embroiled in her own problems, she called me seeking support. I offered what spoken words of support I could offer, and told her to please read The Bible for more and better answers than I could possibly give her. I also suggested that she join or at least attend a local church. I asked if there was a church close by. She didn't know off-hand, so I did a net search for churches in her locality. When she next called, I gave her what addresses I'd found.

There were several within walking distance of her. She turned down the closest one saying, "I don't like the look of that one. It's in an old store front property." She wanted a nice, clean, respectable, looks-like-a-church church. It was a telling attitude, one shared by many people.

People who look down their noses at store-front churches are more concerned with the outward appearance than the Truths offered within. They mistake aesthetics (looks) for verity (truth). Some of the most run-down looking churches I've seen are often more spirit-filled than many of the old fashioned, high-ceiling, polished pews, stained glass churches folks tend to adore. It's a sad thing when people dress up to go to church so their consciences are satisfied and they "put in a good appearance" rather than openly and willingly attending to be in the presense of The Lord.

Jesus doesn't care how sparkling clean the walls are, how many pictures line the walls, how much polished brass adorns the building, or how many people are wearing suits and fancy dresses. Instead, He cares about the hearts of the people at the church. He doesn't say, "I can't possibly visit that church...it's just a run down building." In fact, if He offers a church to someone as a place to worship and that person responds by saying, "I can't go there!!" That person is essentially telling The Lord, "Look, I know you mean well, but you'll just have to find me a better looking place for me to come and talk to you or be with you."

People who think that way need to understand that The Lord goes where He pleases, not where we want Him to be, and He wants us to come to where He leads when He leads and not where we'd rather be when we want to be there. I understand how people can think that way. I've been there too. It's easy to go to a "safe" looking church that fits our idea of what a church should look like and be, but it's hard to step beyond our comfort zones--even when He leads us.

Why? Because we are creatures of the flesh, and our flesh likes the secure, the "safe", the familiar. Because we don't like stepping out from the comfort of our personal zones, our "safe zones", our comfort zones. When we understand that the battle is not in the flesh but in the powers and principalities, and we humble ourselves and obey The Lord when He leads (no matter where that might take us), then it won't matter what the church "looks like". When we follow Him and not our fleshly need for the "safe" and "secure", we may find ourselves in strange places, but we will never find ourselves alone.

If Church to you is a building that "looks" good, you may be among the many who are fooling themselves (or are being fooled by the deceiver), and you may be among those who think they have what they do not have -- for such people tend to think that it is what they DO that matters and not the Faith by which we are saved. (We are saved by FAITH, not works.) And, for those who are truly saved, yet still feel this way, remember to keep a humble attitude, and remember also to be obedient to The Lord (who will NEVER leave nor forsake you) the next time He offers you the opportunity to leave your comfort zone (which is of the flesh, and not of the spirit).
God Bless You, EVERYONE!!



I wrote this after several conversations with my sister in August 1997.
---
Jesus is Lord (Return to Home Page)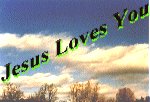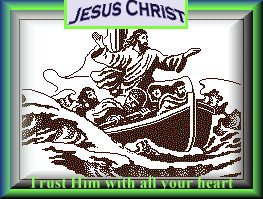 ††† TRUST HIM THROUGH ALL MANNER OF SEASON †††
---








THE CONTENTS OF THE POP-UP ADVERTISEMENT ARE
THE RESPONSIBILITY OF TRIPOD, NOT THIS PAGE'S
CREATOR. IF I COULD AFFORD TO TAKE IT OFF,
I WOULD. I DO NOT MEAN DISRESPECT TO TRIPOD,
HOWEVER, WHO HAS GRACIOUSLY PROVIDED SPACE.